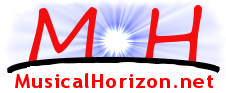 Musical Horizon vous permet de visualiser vos goûts musicaux avec une carte colorée en deux dimensions. Elle est créée en combinant les nuages d'étiquettes (tag clouds) de vos artistes préférés et en les plaçant dans votre horizon de manière à mettre l'emphase sur votre diversité musicale.
En regroupant les étiquettes qui représentent la même tendance musicale ensemble et en définissant un maximum pour l'influence de chaque région, Musical Horizon peut déterminer la diversité de vos goûts musicaux ce qui permet de comparer aisément votre horizon musical à celui des autres utilisateurs et artistes.
---
Musical Horizon allows you to visualize your musical taste with a gorgeous 2D color map, your horizon. It is created by combining the tag clouds of your favourite artists and placing them in your horizon in a way that puts emphasis on musical diversity.
By grouping tags that express the same musical concept together and by capping each region's maximum influence, Musical Horizon can determine how diverse your musical taste is and allows you to quickly compare your horizon with other users and artists.