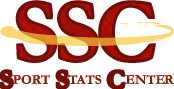 SportStatsCenter se veut être un site de gestion de ligues sportives. Les ligues qui s'y inscrivent peuvent créer leurs joueurs, leurs équipes, leur calendrier et leurs tournois. Elles peuvent afficher, entre autre, des nouvelles, des photos des joueurs et leurs règlements. Les ligues entrent par la suite elles-mêmes les résultats des parties et le site se charge de faire la compilation des statistiques, générant automatiquement le classement des équipes. Tous les tableaux de statistiques peuvent être triés par colonnes. Le site utilise les css de type «print» permettant d'imprimer aisément les tableaux de statistiques.
---
SportStatsCenter is a sports leagues management web site. Subscribing leagues can create their players, teams, calendar and tournaments. They can display, among other things, news, players pictures and rules. Leagues enter their matches results themselves and the website does statistical compilation, thus generating team ranking. All statistical tables can be sorted per columns, The site uses "print" type CSS, allowing to easily print statistical tables.
Currently, the web site only supports Baseball and Hockey. Upcoming, the "generic" mode allowing full operations except for sports specific statistics.